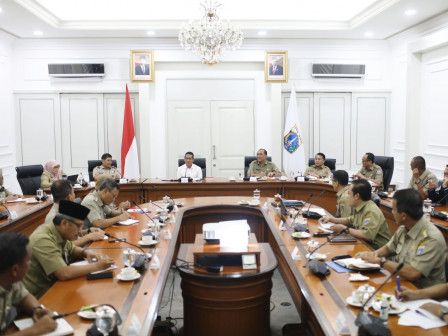 The Jakarta Provincial Government is preparing to welcome several important global and national level agendas in 2023.
We only have three months
As known, Jakarta has been lined up to host the 2023 Mayors and Governors Meeting for ASEAN Capital (MGMAC). MGMAC 2023 is a forum or meeting of governors and mayors from the capital cities of ASEAN countries. Even, Jakarta will also host the 2023 PON Pre-Qualification.
Jakarta Acting Governor, Heru Budi Hartono instructed the leaders of each Regional Apparatus Organization (OPD) to finalize detailed preparations such as infrastructure, meeting places, and tourist spots, including a dinner location to welcome guests or delegates from ASEAN countries.
"We already know its place in the ASEAN office. That's why infrastructure facilities must be prepared, bilateral meeting places, for tourism activities, including dinner location. That's something we have to think about in detail," he expressed, on the sidelines of a meeting at Jakarta City Hall, Monday (12/5).
According to him, the preparation time for the two agendas was limited because of the Ramadan and Idul Fitri periods, Jakarta Anniversary, and Independence Day Anniversary.
Responding to this matter, Culture and Tourism Division Deputy Governor, Marullah Matali was asked to pay attention to technical matters and everything needed.
"We only have three months. That means there will be a meeting with Foreign Ministry and ASEAN officials, an echelon 1 is needed. Mr. Marullah can lead it next year but take turns with me to coordinate with the central government," he explained.
As for the information, MGMAC is a forum for leaders of the capital cities of ASEAN countries to discuss development ideas and practices as well as a mechanism to strengthen collaboration between these cities.
The Jakarta government supports the exchange of knowledge, experiences, and development practices, including urban development among ASEAN capitals.
Therefore, the city invited governors, mayors, and regional leaders in ASEAN to participate in the 2023 MGMAC in Jakarta.
"Then you can imagine how busy it is. We have to be agile plus our tasks. This is a noble task. All of that can be communicated with the central government," Heru closed.